Wednesday, April 4th, 2012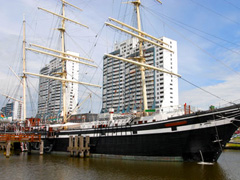 Gulfport is a city of beautiful beaches and some of the best pop culture competitions in the country. A harbor city with its root in the lumber industry, it has progressed to be a wonderful tourist town. Milner Stadium is host to some of the most rousing sports competitions you will find in any town; and the local residents support their baseball team with colors, banners and the excitement of the results of every run on the baseball scoreboard.
Originally started as a location for the shipment of lumber by two of the railroad and lumber magnates of the time, Gulfport had a huge infusion of investments to ensure that it was a functioning seaport. The beautiful beach area, combined with the location attracted people from all cultures to stop in for a visit. Progress continued so that the little community grew with the tourism trade, opening inns and later motels and casinos. The geographic location became the home of the U.S. Navy Atlantic Fleet Seebees with active, Coast Guard Auxiliary and reserves on duty at all times.


Comments: (0)