The Five Worst Major League Ballparks
Thursday, May 5th, 2011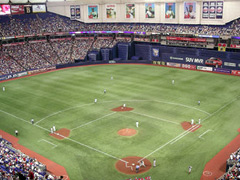 1) The Rogers Centre (Toronto Blue Jays)
It was built in 1989 and originally called the Sky Dome. At first, everything was great at the Sky Dome, but things have changed in the recent years. Now at 21 years old, the amenities at the Rogers Center are not nearly as good as they used to be. And when they close the retractable roof, the feeling of a major league ballpark completely disappears, and it looks more like a comic book expo. Also, when a game isn't sold out, the stadium feels too big.

2) U.S. Cellular Field (Chicago White Sox)
It was built just in time for the beginning of the season in 1991. However, the complaints soon began. One of the biggest ones is about the upper deck seating in this ballpark. They had to push the upper deck back a bit so that the lower deck wouldn't overheat, but in order to fit more seats, the upper deck had to be made steeper. This made it too steep to climb and too far away from the action and the baseball scoreboards.
3) Sun Life Stadium (Florida Marlins)
This has been called other names in the past, such as the Dolphins Stadium and Pro Player Park, but all will agree that it's a really bad ballpark. It was originally built in 1987 as a multipurpose stadium, so NFL plays there too. However, this means that the stadium caters more towards football than baseball, so the seats are poorly arranged. There are no views of the left field and right field corners.
4) Oakland-Alameda County Coliseum (Oakland A's)
This one is a bit older – it was built in 1966. Back then it was a nice ballpark for watching baseball. But then Mount Davis was erected, which is a huge seating structure located across the outfield. This ugly structure now blocks the beautiful mountain view that could previously be enjoyed as well as the game. When football is played in the stadium, the yard markers become hideous after the severe beating they take.
5) Tropicana Field, (Tampa Bay Rays)
Some consider this one the worst major league stadium of all time, located in St. Petersburg, Florida. It was built in 1990, and is often called the "Trop" for short. This stadium is the only one left with a roof that is not retractable – so it's permanently there. This gives it almost a warehouse kind of feel and many fans claim that it feels wrong to have baseball played indoors, especially in a place like Florida. The four catwalks at the top are also a problem, since they are hit quite a bit and result awkward decisions for the umpires.
For more information, go to:
http://en.wikipedia.org/wiki/List_of_Major_League_Baseball_stadiums

Comments: (0)
---
Leave a Comment
You must be logged in to post a comment.