2012 Top Hottest College Cheerleading Squads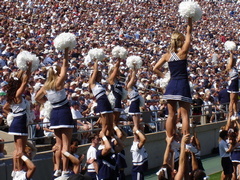 While everyone is viewing their favorite college football teams, we must never forget the always supportive cheerleading squads. CollegeFrathouse.com has put together the list of the America's top hottest cheerleading squads for 2012. Check out the video to see if your team's cheerleaders are in the group. The picks are selected from colleges all over the country for their looks, performance and abilities to perform as a complete team. Every game has cheerleaders, but these are selected as the best of the best. Narrated by Harper Padilla, she adds interesting notations for each group to show off their best assets.
Sources:
https:/­/­commons.wikimedia.org/­wiki/­Cheerleading#/­media/­File:PSU_Cheerleaders1.JPG
youtube.com/watch?v=x04ui_VCYjE

Comments: (0)
---
Leave a Comment
You must be logged in to post a comment.