Free Sports Website Widgets Brought to You by Scoreboards.net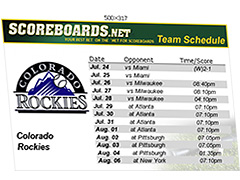 If you have been searching the net for an easy sports widget to add to your website, you have probably found a number of rather confusing and intricate widgets that typically require a lot of time and resources to add to your site. Scoreboards.net now removes the hassles from your search, with a free (and easy) sports widget, designed just for you.
Most of the widgets that are available require an in-depth knowledge of html programming. In support of our sports webmasters, our technicians have designed an easy-to-add widget that will take only minutes of your time.
Before you start, we will clarify the difference between a 'widget' and a 'gadget'. This will assist you in understanding what you are looking for and what you need for your sports website. A 'gadget' is typically a resource tool that can be added only to specific and proprietary websites that often require specialized sponsorships. You don't want to be tied down to any obligatory situations; a 'gadget' is not what you are looking for. The Scorboards.net 'widget' can be added to any website, with just a few easy steps and is available for your favorite football, baseball, basketball, soccer, and hockey teams.

The Scorboards.net widget is totally free for your site to access. You take a few simple steps: Choose your team from the thirty two top team icons that will be displayed. You are also given a choice of 'view': horizontal or vertical. This is important for the overall look of the site and if you will want more than one widget on your site, the manner in which they will fit on the page. Once you have you're your choice, you hit the 'Get Widget HTML Code' button, it will take you to the page that will display a 'code'. This code is important so that you can copy-and-paste into your website and your sports widget will be displayed, including the team logo. If your website features multiple sports, you can add a number of widgets to display additional favorite teams.
You might notice on the same page that you have some additional options of selecting your favorite team schedule widget. This option allows you the opportunity to have both the score updates and the team schedules on your website. Each of the widget additions will take you less than five minutes.
Offering the free widgets is another way that Scoreboards.net assists and supports our sports fans and those that control the websites they follow. We know that sports fans are some of the most loyal people and they look to you for the best and most up-to-date information. Our Scoreboards.net technicians have designed the widgets to let you be the star of the website, with little or no web programming experience required. The widgets have a professional look and feel and, if you do have some web coding experience, you also have control to change and adjust the widget to additional specifications. This isn't necessary if you are a beginner, because we have accomplished all of the hard work for you.
Scoreboards.net has taken our well-known excellence of service and products to extend to offering a widget service. This is part of our continued efforts to create the very best possible sports experience for all of the fans. You can feel confident that Scoreboards.net will bring you superior quality for everything related to the topic of sports and you can look to Scoreboards.net for the best data, articles, information, resources and scoreboards for your team and school.

Comments: (0)
---
Leave a Comment
You must be logged in to post a comment.