Wednesday, April 11th, 2012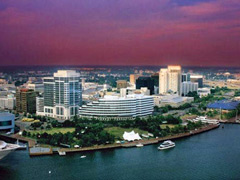 The city of Norfolk is a testiment to the strength of the country. The citizens have maintained a community identity from the past through to today. Famed for their sports stadiums for basketball, baseball, hockey and now football; it is the hockey games that seem to bring attendance to see their beloved Norfolk Admirals. At any game the lights of the hockey scoreboards and the cheering fans show the city's pride. Norfolk, Virginia started out as a port city stronghold, mainly due to its strategic location and the natural large harbor. It has been attacked, destroyed and rebuilt multiple times, because the people simply will not give up or give in.
The area currently known as Norfolk was originally part of the larger land area patroned by Adam Thoroughgood, in the 1830's. The Norfolk area experienced a division until it was finally settled with the name it bears today. The wonderful harbor was a springboard for the construction of the first Half Moone Fort and allowed the port environment to have one of the best success rates for the export of supplies for the British Empire.


Comments: (0)