5 MLB Rookies to Watch Out For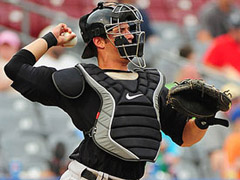 The opening day weekend is here. Dozens of rookies have fought hard to make their way into the MLB and will now be looking at establishing themselves in the league this season. In a baseball scoreboards feature, I have taken a look at the top 5 rookies who we should be all watching out for in 2011.
J.P. Arencibia
Toronto Blue Jays have got their future catcher. Arencibia is a player with deadly skills, and an average of .301. He is the second Blue Jay to hit a home run in his debut match at the major league. The baseball scoreboards showed that he hit a 2 run home run in his first match and 4 hits. The main this that he needs to work on this season are his strikeouts. If he can improve this part of his game, there is little that can stop him from becoming the greatest catcher in the league.
Freddie Freeman
Freddie is the first player at the Atlanta Braves who has played for the Triple-A Gwinnett Braves for most of the 2010 season, and despite being 21 he will be starting off the season for the Braves. He posted some impressive stats with Gwinnett, which is why he is a real threat in the league for others this season. Physically Freddie does not look like a great athlete but he is expected to have a high batting average.
Aroldis Chapman
This boy has impressed everyone with his speed and power. He can throw the baseball at an amazing speed, for which he has been nicknamed the 'Cuban Missile'. The Cincinnati Reds have got their man. Aroldis holds the record for the fastest recorded pitch speed i.e. 105 mph and this season he will be looking at pitching the ball at this same speed, and even faster…
Jeremy Hellickson
His 3.47 ERA in 36 innings was the main reason why he was considered by the Tampa Bay Rays for the major league. He is the premier rookie pitcher for his team, although he might face some difficulties in performing initially. The Rays traded away Matt Garza for Hellickson and this young boy will have this pressure when he comes out to play for the team in the early matches.
Brandon Belt
Brandon Belt was ranked as the 3rd best first baseman prospect on the MLB website. He has been impressive throughout the minor leagues and is a great rookie for the San Francisco Giants. He has the ability to create a power stroke and will look to impress when he comes out to play for his team. Currently he is somewhat underrated, but as the league kicks off, I am sure that his performances will bring him into the spotlight.
For more information on MLB, go to:
//mlb.mlb.com/index.jsp

Comments: (0)
---
Leave a Comment
You must be logged in to post a comment.