Baseball Parks Luring Fans into Stadiums with High Tech Appeal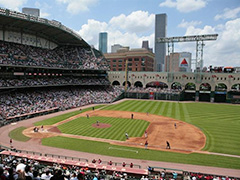 The home entertainment systems of today are so incredibly well designed, that size, view and sound make it almost like being at a game. Stadiums around the country have been updating their technologies to get their sports fans off the couch and into the stadium. Over the last couple of years, the upgrades have been pretty impressive for baseball enthusiasts and have included everything from park wide Wi-Fi access to high def LED ribbon electronic scoreboards. Here are just a few of the parks and teams that are drawing the crowds in, with the glamour of technology:

Minute Maid Park – Houston Astros
A high tech scoreboard has been added to the playing field, measuring 54 x 124 feet and featuring 2.66 million pixels and includes 1,185 linear feet of ribbon board.
Fenway Park- Boston Red Sox
Three new electronic scoreboards were added to this park, featuring varied sizes for the video screen and the ability to display side graphics, full screen video for advertising and live action as well as up to the minute pitch speed, player stats, pitch type and speed, promotions, announcements and box scores.
Citizens Bank Park – Philadelphia Phillies
Phillies enthusiasts can now watch play by play action on the 84,000 square foot electronic scoreboard, with 2.9 pixel display. The display is listed as HD-15, with LED technology and offers around 144 quadrillion shades and tones of color.
The Great American Ballpark- Cincinnati Reds
Mobile devices are now part of Americana and this park has added the ability for sports attendees to view everything on their mobile devices in high speed. The addition of a cell-tower with multi-tent location and around 120 transmission antennas gives fans more apps accces such as MLB's, batting average and up to the minute scores. This feature wasn't the only add-on, there are new hi-def flat panel screens with Blu-ray functionality in the luxury suites that were built.
Miller Park- home of Milwaukee Brewers
The latest technology in scoreboards has been added to Miller Park, with 2.35 million pixels and a new audio system that will blast any game information across the field.
Safeco Field- Seattle Mariners
The addition of the newest high tech electronic scoreboard featuring LED display and ribbon boards that wrap from the press box to all of the foul poles around the 1st and 3rd base lines, are truly incredible. The electronic scoreboards bring everything from the game, as well a sponsor info, graphics and animation.
Target Field- Minnesota Twins
The new high def LED electronic scoreboard is thrilling the baseball fans, with the 552×984 res, live game videos and stats displays. The graphics are incredible and can accommodate 4,300 LED ribbon strip areas for all of the up to the minute streams. There is also Wi-Fi access throughout the park.
As stadiums continue to try to draw in the fans, the enthusiasts will continue to demand better, faster, more colorful and more exotic technologies. The look and feel of the traditional baseball game will never be the same.
Sources:
cnn.com/2011/TECH/innovation/03/31/ballparks.unveil.tech.updates.wired/index.html

Comments: (0)
---
Leave a Comment
You must be logged in to post a comment.