Electronic Scoreboard Signage: An Old Idea Enters the Twenty First Century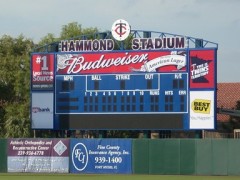 The idea of sponsors for a sports game is not new. Since the first baseball was thrown out, there has always been a local business that wanted their name or logo on a sign to show the support of the community. Today, however, we have entered the world of high resolution, instantaneous updates via the electronic scoreboards and every sports team manager and school is seeing dollar signs for the marketing opportunity of scoreboard signage.

About five years ago there seemed to be a small wave of objections from a small minority of people as to whether advertising was appropriate when attending a school sports function. As the economy began showing tougher times and budgets got tighter, the objections faded to the wayside. A school or stadium that has an electronic scoreboard has an open door to additional revenue and there are a lot of people that are taking advantage of it.
Take a look at many of the school and stadium websites. You will now see tabs that announce advertising options for their sponsors for their electronic scoreboard presentations. Prices and displays vary along with the options. Today's electronic scoreboard can offer a sponsor a combination of marketing ideas. Yesterday's display was just a logo or slogan, today, electronics, streaming video and high res signage can give a sponsor the kind of quality representation that used to only be available with an expensive recorded commercial. Combine the real time feeds to websites, social media and smart phones and a sponsor message can be sent along with score updates and can literally 'go viral' in a matter of seconds. There isn't a sponsor in the world that would give up the opportunity to have their ad show up on the next and everyone's phone.
Schools and stadiums have become a lot more tech-savvy by bringing full marketing companies on board. The marketing company can streamline the effort and put together advertising packages and presentations that can easily be presented to a potential sponsor on a PowerPoint presentation. This means that the high school student can carry a laptop right to the sponsor and with wide-eyed innocence get a sponsor to sign on the dotted line to support their school effort. If there's a need to make the presentation to multiple owners or executives, a quick online conference line can be called with a log in and voila: everyone can view the advertising presentation.
Marketing opportunities using electronic scoreboard technology is often combined with additional concession stand offerings, school 'spirit' sales and rallies. In a larger stadium environment this can be a revenue stream that people are more than happy to invest in, as it is in support of their own home team.
Electronic scoreboard signage has skyrocketed from a small idea to an entire concept of dollar attraction. Everyone seems to win with these ideas, from the school or stadium to the fans that attend the games. As we move forward in the technology of electronic scoreboard signage, immediate information access will continue to offer everyone the idea that they are participating in the success of their teams.
Sources:
www.ci.roseville.mn.us

Comments: (0)
---
Leave a Comment
You must be logged in to post a comment.