Euro 2012 – Will the Stadiums in Ukraine be Ready?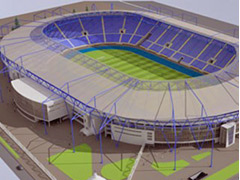 It's exactly one year before Euro 2012 kicks off, and it doesn't come as much of a surprise to many that Ukraine is struggling to construct their stadiums in time, despite official assurances that everything will be ready. In this soccer scoreboards feature, I have taken a look at the two stadiums that are causing the most concern, and ask, will they be ready?
The Lviv Stadium
Lviv is located in Western Ukraine, very close to the Polish border. It has a moderately successful soccer team which player in the Ukrainian Premier league, but its stadium was too small and outdated to be considered for the Euro championship (for instance, its soccer scoreboards are still analogue!) Work began on a new 30,000 capacity stadium three years ago, and it was due to be completed by the end of this summer. Ukraine is supposed to play Austria in a friendly in that stadium in November of this year, but already it is looking like that match will have to be moved.

Martin Kallen, the Euro 2012 director, stated that he believes the stadium will be ready for the finals, although he is not so sure if the city will be able to cope with the influx of fans on the match days. Hotels are in short supply and there is a general lack of facilities for tourists. Reports state that 1000 builders are working on Lviv's stadium 24/7 to meet the deadline, but its highly doubtful that this is actually true.
Although the stadium is a simple one to build, as of now (June 2011) it looks like nothing more than a skeleton shell of a stadium with a layer of dirt where the pitch should be, and journalist reports suggest that no more than 100 people are working on the stadium, far from the official figure of 1000. Regardless, the simplicity and the small size of the stadium should save it.
Will it be ready? Yes!
The Kiev Stadium.
The capital of Ukraine, Kiev, is a beautiful city full of golden-domed churches. The city is awash with money, and expensive BMW's, but when it comes to getting things done, it can be left wanting. The stadium here is projected to be the principal venue in Ukraine, with the biggest seating capacity and the most important matches. There have been massive problems surrounding the construction of the stadium, and allegations of misappropriation of land and top to bottom corruption. As of now, work is progressing painfully slowly, it is still far from complete and there are not even any seats in place. As in Lvov, Ukraine is due to play a friendly here in November, but that is now in doubt.
This stadium has been one big headache from day one, and has been the subject of a power struggle between a number of people competing for its ownership. As of now it is in more advanced stages than the Lviv stadium, but there is every chance the people and politics will ruin everything for Kiev and its participation in Euro 2012.
Will it be ready? No!
For more information on Euro 2012, go to
//en.wikipedia.org/wiki/UEFA_Euro_2012

Comments: (0)
---
Leave a Comment
You must be logged in to post a comment.