Fun Facts about Major League Baseball Parks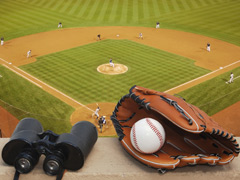 If you're an avid baseball fan, there may well be many interesting facts about major league baseball parks you still don't know about. You may find a few surprises in the following baseball scoreboards list:
•Camden Yards (Baltimore): Babe Ruth's father's saloon once occupied the land where this ball park now stands.
•Busch Stadium (St. Louis): an enormous manual baseball scoreboard replaced about 5,000 outfield seats in this ballpark.

•Chase Field (Arizona): this ballpark became the first ever stadium with a retractable roof. The roof only takes 5 minutes to close and now the stadium even has air conditioning! This is a great bonus for playing in the scorching Arizona heat.
•Petco Park (San Diego): the seats in this stadium are enabled with computer technology where fans can check stats, surf the internet, and even order food without leaving their seats.
•Coors Field (Denver): this ballpark is about 21 feet below the city. It has an old-fashioned brick façade, so it easily blends in with the downtown area.
•Fenway Park (Boston): this is the oldest operating major league ballpark in existence. To this day is looks just the way it did when it first opened, and it remains home to the Boston Red Sox.
•The Yankee Stadium: in the first game this stadium ever saw, Babe Ruth hit a home run. From then on it was called "The House That Ruth Built."
•McAfee Coliseum (Oakland): this ballpark was built deep in the ground; thus, fans can enter the upper deck level easily.
•Miller Park (Milwaukee): this stadium has a system of air circulation, which can make the inside temperature up to 30 degrees above the temperature outside.
•The Kauffman Stadium (Kansas): beyond the outfield fence of this ballpark you will find water fountains that stretch horizontally for over 300 feet. You will also find a 10-foot high waterfall, which comes down from a cascade pool higher up.
•Shea Stadium (New York City): located close to La Guardia Airport, this ballpark has a fun and unique feature. Behind the center field fence there is a Mets Magic Hat, from which an apple pops out of every time a homerun is hit by a Mets player.
•Shibe Park: this one is quite old, dating back to April 12, 1909. When it opened, it was renowned to be the first baseball ballpark ever constructed that was made completely of steel and concrete. It is a French Renaissance dome, which is very large and beautiful, and Connie Mack's office stood right behind it.
•Tropicana Fiend: this Tampa Bay Devil Ray's field was named by Tropicana juice, which is set to hold on to the naming rights for the ballpark until 2019.
For more information, go to:
//en.wikipedia.org/wiki/List_of_Major_League_Baseball_stadiums

Comments: (0)
---
Leave a Comment
You must be logged in to post a comment.