Miracle League baseball field gets donation for upgrades and electronic scoreboard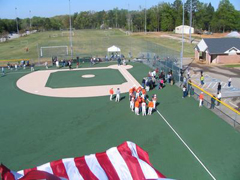 The Miracle League is part of the nationwide organizations that set up playing fields for special needs children and adults. Unlike a standard playing field, there are extra safety precautions that need to be considered for players and families on the field and in the stands. A new Miracle League baseball field is soon to be opened in Sarasota, Florida. The surprise donation of $10,000 is allowing them to add some of the necessary upgrades, including an electronic scoreboard.

Sarasota, Florida is about forty five minutes south of Tampa, Florida. Known for its baby powder sand beaches and home to many celebrities, it is a small little big town. The community is very supportive of the arts through the Van Wezel Arts Theatre and the International Film Festival held each year. The residents also support the school efforts and businesses are always on hand during the annual Sarasota County Engineering and Science Fair to speak with the kids, sponsor programs and offer encouragement.
When it came to the attention of the community that there was a high level need for a baseball playing field designed for those children and adults that have special physical requirements, the Miracle League came to rescue. These kids, probably more than standard kids, need every possible avenue to participate and improve their self-esteem. They came up with a plan for a baseball field of custom design, complete with a rubberized turf that offers cushioning; dugouts, concession stands and rest rooms that are wheel chair friendly and a totally flat design that would eliminate any problems for those using wheel chairs. The crowning addition will be to add an electronic scoreboard that all fans and attendees will be able to view. One of the local Sarasota county businesses met the challenge with a $10,000 donation to help out with the costs.
The planned field will comply with the Miracle League rules which includes the fact that every team player will have the opportunity to bat at least once in each inning, all of the base runners are considered safe, each player will score a run before the individual inning ends with a home run for the last one up; volunteers will consist of all able bodied kids in the community so that they can serve to help the players as 'buddies' and each player as well as each team will win every game.
The field will border on both Sarasota and Manatee counties and will be available for teams of both counties to use. Invitations will be extended to all organizations, schools and county recreation programs in both counties for both kids and adults in any of the special needs programs to participate and play at the field.
This is truly a 'field of dreams' for those that never had the opportunity to play on a softball field or feel like they were part of any sports team. The Miracle League will be bringing happiness to families, kids and adults in the area beginning in the spring of 2012, when the field will be opened.

Comments: (0)
---
Leave a Comment
You must be logged in to post a comment.