Scoreboard Outreach: What UC San Diego is doing to get a new scoreboard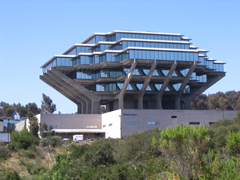 UC San Diego is an incredible school. They have a proud history of excellence in education and winning athletes in sports. Their Triton Stadium has been given the title as one of the best on the West Coast, and features their famous track and field team. There is, however, a few things missing. The most obvious is a modern electronic scoreboard. The students at UC San Diego are well aware of the need and have decided to do something about it.
As you gaze upon the students and teams at the track and field area of Triton Stadium, you find yourself impressed with the enthusiasm and talent. The stadium itself has not seen any upgrades since it was originally built around twenty years ago. Even though it has been in need for this long, there is a crisp, clean and well-kept look of the stadium and track and field. It's apparent to anyone that the school takes great pride in the Triton. The major downside is that this is a stadium that would have the ability to play host to major sporting events, except that they can't. Without an up-to-date electronic scoreboard, this field isn't even a contender.

The students organized an outreach to fellow students and the community. Their intention is to get a new electronic scoreboard in memory of two of their own. Shannon Quigley Runningbear, class of 1991, was an all around athlete. She won the women's volleyball team National Championship and earned and set the record in discus throw. In addition, Shannon was All-American, seven times and received the coveted award of the 1991 Female Athlete of the Year. Shannon passed away in 2009. Leon T. Roach was an inspiration at the school. A pole vaulter that carried the tradition on in his family. Known for his positive attitude, the track and field team honor Leon by wearing the smiley-face-logo on their uniforms. Leon passed away in 2009.
UC San Diego recognizes that a new electronic scoreboard will bring more fans to the Triton Stadium, offering immediate updates for the fans to see. They have created a special page on their website for donations. A 'wall-of-recognition' has been set aside at the south end of the track and field will contain a tile with each of the donor names.
The proposal for the new scoreboard is an 11×17 foot measurement and will be elevated to a 30 foot display. High res color graphic displays will offer up-to-the-minute scores, along with team and school names, performances and events status and time. They have included a diagram on the school website, for everyone to see.
The students at UC San Diego have let everyone know their sense of pride in their school and for the Triton Stadium. In honoring the memory of two of their own finest athletes with a new electronic scoreboard, they have involved the community in ensuring these two students will always be remembered. In this day and age, it is refreshing to see students that are so proactive and are taking control of something that is so important to them.

Comments: (0)
---
Leave a Comment
You must be logged in to post a comment.