The 3 Most Fun MLB Stadiums to Party in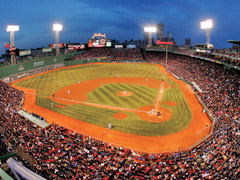 Baseball is great game to go and watch live, and be surrounded by tens of thousands of like-minded fans and the incredible atmosphere that they generate. Whilst some people go strictly to watch the action on the field, some are just as interested in partying at the stadium, during the game and after it. Personally, I fit into the second category of people – live baseball for me is about the excitement of the game itself, no doubt about that, but it's also about the good times I have with my friends on ballpark days, the majority are followed by a great night out in the local bars!

In this baseball scoreboards feature, I have listed the top 3 baseball stadiums for partying. I have based this list on the quality of the beer, the food selection and cost, public transportation (no good getting drunk if you're driving home), and a few other factors.
3 – Orioles Park at Camden Yards.
Camden Yards offers cheap entry tickets, and for $10 you can get a decent seat. The food selection is interesting – they offer the so called Boog's Barbecue, as well as a range of kosher foods.
There are 8 types of beer on offer at the Baltimore Brew Pub located in the stadium, all sold at a good price.
The stadium is in downtown Baltimore, and public transportation links from it are good. Overall, a great place to party where you certainly won't break the bank!
2 – Angel Stadium
This stadium is really cheap to visit, with ticket prices dropping every year. The stadium has no signature food, but it does have all sorts of super tasty hot dogs, burgers etc., all at a great price. Beer prices are super low too, and you don't have to line up to get a drink.
One big attraction for fans is the circus-like atmosphere at the stadium, with games and activities put on if the baseball scoreboards show that the team is losing.
Public transportation is OK too, well, as good as it gets in LA anyway! Overall, the stadium is great considering that it was built in 1966, and it is amazingly cheap, leaving you more money to spend at the bar!
1 – Fenway Park
Tickets are hard to come by for this stadium, and not the cheapest. The beer and food isn't that cheap either, but the selection and quality is second-to-none.
The Red Sox are known for providing perhaps the best entertainment in baseball between innings, and the stadium is general known for producing an atmosphere that is practically unrivaled in MLB. This special atmosphere, in tandem with the local nightlife, means that Fenway Park truly is the greatest MLB park to party in!
For more information on Fenway Park, go to:
//en.wikipedia.org/wiki/Fenway_Park

Comments: (0)
---
Leave a Comment
You must be logged in to post a comment.