The Greatest Baseball Brawl Ever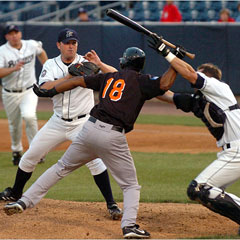 In a baseball scoreboards, feature, we look at the most infamous brawl ever to have occurred in the MBL. It is said that every sport is played with equal measures of skill and passion for the game, but what happens when the level passion gets too high? This has happened on more than one occasion in baseball. Around 26 years ago, in a particularly famous incident, there was a game in which a lot more passion than skill was shown off. The end result was one of the greatest baseball brawls ever.

The fight between the two teams started well before most of the fans had even got to their seats. Initially, the fight started when Perez, the Braves starter, hit Alan Wiggins, the leadoff for the Padre's. When it was Perez's turn to get on the field in the death of the second innings, Padres decided to treat him as a practice dummy for throwing at.
Perez was soon greeted with a fastball by Ed Whitson, to which Perez responded by threatening him with his bat. That's when Padre's catcher Terry Kennedy decided to treat Perez as a punching bag, to whom Perez replied with the crack of his bat (no threats anymore!). That's when each and every player on both teams decided that they were there for a free-for-all boxing match and not a baseball match.
The first brawl eventually came to an end, but the fight was nowhere from over. The second, third and fourth brawls followed in the 5th, 8th and 9th innings. The brawls of the 5th and 8th innings started for the same reason; the Padre's were still using Perez as their practice dummy. However, the final and the most brutal brawl came with the baseball scoreboards showing the 9th innings, obviously for the same reason, when Padre's Graig Nettles finally pinned one on Perez, and the Brave's Donnie Moore (reliever) hit Graig. Once again, all hell broke loose, and this time even some of the spectators decided to pitch in.
In the end, the list of injuries was not as extensive as one might have expected from a brawl of such proportions. However, the list of people against whom legal action was taken was longer than expected. A total of 13 players and both the teams' managers were ejected. The five fans, who had decided to pitch in, pun intended, were arrested. 4 of the players were suspended, along with the Brave's manager Joe Torre who was suspended for a period of 3 games. The Padre's manager Dick Williams was given a fine of $10,000 and was also suspended for a period of 10 days.
For more information, go to: mlb.mlb.com

Comments: (0)
---
Leave a Comment
You must be logged in to post a comment.