The top 10 shortest NBA players ever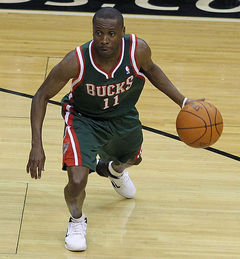 Basketball is a game known for tall men. Very few NBA players are less than 6 foot and many of them are in the sevens! Sometimes it seems like height is an absolute prerequisite for basketball players to hit the big time, however, there have in fact been some very successfull players who were relatively short. Read on for a basketball scoreboards list of the ten shortest such players from the NBA:

Terrell Brandon
Terrell Brandon was 5'11". He started his career with the Cleveland Cavaliers in the 90's and played for two more teams, the Milwaukee Bucks and Minnesota Timberwolves. When he played he received the award for the best point guard in the NBA. He also received the NBA sportsmanship award.
Damon Stoudamire
He was popularly known as the mighty mouse. He was 5'10" and the basketball scoreboards showed that he was brought into the NBA by the Toronto Raptors. He played for the Grizzlies in his prime and was then traded to the Portland Trail Blazers. He was awarded the best rookie of the year in 1995 and 1996.
Avery Johnson
Commonly known as Avery "Little General" Johnson, he was 5'10" as well. He played for many teams, such as the Denver Nuggets, Houston Rockets, Golden State Warriors, Dallas Mavericks and San Antonio Spurs. He is famous for playing with the Spurs when he helped them win the 1999 NBA championship.
Michael Adams
He was 5'10" too. He was drafted by the Sacramento Kings but when he joined Denver Nuggets he started to play really well as a rookie. He retired in 1996.
Calvin Murphy
Murphy was 5'9" and played as a guard for the Houston Rockets. He was famous for his fantastic free throw. He achieved a lot despite of his height in the game of basketball. Now he is involved with the Houston Rockets team.
Nate Robinson
Nate Robinson is 5'9". He was first picked by the Phoenix Suns but was soon traded to the New York Knicks and currently plays for the same team. Amazingly for a short guy, he won the slam dunk contest in 2006.
Wataru 'Kilo Wat' Misaka
Wataru Misaka is 5'7" and is not a well known basketball player. He was an Asian player and was first picked by the New York Knicks. He had a very short career of a year only and in that time he played only three games for the team. In 1999 he was inducted into the Utah hall of fame.
Anthony 'Spud' Webb
Webb was 5'7". In 1986 he won the slam dunk contest with the highest jump of 42 inches. He was initially picked by Detroit Pistons. He then spent most his career playing for the Atlanta Hawks but his prime came when he played for the Sacramento Kings. After playing only one season with Orlando Magic, he retired in 1998.
Earl Boykins
Boykins is just 5'5" and the lightest NBA player ever. He was never drafted by a team but played for several teams as point guard. He played for teams like the Denver Nuggets, L.A Clippers, Golden State Warriors, Milwaukee Bucks and many others.
Tyrone 'Muggsy' Bogues
The shortest player to have ever played in the NBA! He was only 5'3". He managed to use his short height to his advantage, and became a fantastic ball stealer and passer. He played for Charlotte Hornets for 10 years.
Source:
https:/­/­commons.wikimedia.org/­wiki/­File:Earl_Boykins_Bucks.jpg
For more information on the NBA, go to: en.wikipedia.org

Comments: (0)
---
Leave a Comment
You must be logged in to post a comment.