The Top Nine MLB Baseball Stadiums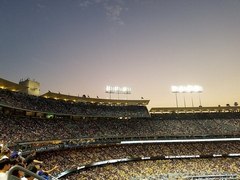 In a baseball scoreboards feature, I have collated what I consider to be the greatest MLB stadiums of the all. Have a read, and see if you agree!
1. Dodger Stadium, Los Angeles. This ballpark is built into the side of a mountain, and it overlooks the Los Angeles downtown area. Apart from the baseball scoreboards, from the stadium seats you have a fabulous view of the hills of Hollywood. The Dodger Stadium may not have the most central location, but it is easy to get to the other famous places in L.A. if you want to do other sightseeing after a baseball game.

2. Wrigley Field, Chicago. This ballpark fits perfectly into its surrounding neighborhood – Wrigley – and it is quite old, built in 1914. Bleachers and high rises are built onto the roof at Wrigley Field, and it has an old authentic feel.
3. Oriole Park, Baltimore. In this ballpark you'll have one of the best views Major League baseball can offer. Its exterior was especially designed to fit in with its surroundings – various federal buildings and monuments, so it does not lack character.
4. Safeco Field, Seattle. This ballpark is known for having a retractable roof that doesn't give you that claustrophobic feel. The stadium is never enclosed fully, even when the roof is closed. Above the left field seats there is an area, which stays open year round, which still gives you a sense of being outdoors even though you're not.
5. Turner Field, Atlanta. It was built in 1997 and the upper deck provides a view of the skyline and the Olympic torch. It is an underrated park, which has lots to offer, even a game area for children.
6. PetCo Park, San Diego. Home to the San Diego Padres, this baseball park is known for its architecture. Also, its construction attracted some new businesses, like shops and restaurants.
7. Coors Field, Denver. This one is considered one of the nicest parks in the whole country, and is said to have a spectacular exterior. The use of brick is ubiquitous in its construction, and its entryways are unique. One of its unique features is a mile-high upper deck.
8. Fenway Park, Boston. This is a very old park, built in 1912. It carries much tradition with it, as well as strong Bostonian loyalty. No one here would be in favor of building anything new or modern to replace their beloved Fenway Park.
9. PNC Park, Pittsburgh. Since the Pittsburg Pirates have not been showing good results in recent years, the location of this ballpark has to compensate. From the seating area you have a good view of the river, as well as the city skyline.
Source:
https:/­/­commons.wikimedia.org/­wiki/­File:Dodger_Stadium_twilight.jpg
For more information, go to:
//en.wikipedia.org/wiki/List_of_Major_League_Baseball_stadiums

Comments: (0)
---
Leave a Comment
You must be logged in to post a comment.