Don Haskins Center Seven Electronic Scoreboards: Texas does Everything Bigger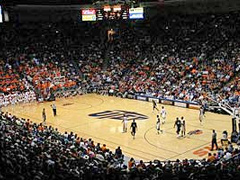 It is no secret that Texans have an intense sense of pride in their state. It doesn't seem to matter about the topic you are talking about in Texas; the people of that area seem to feel that everything in Texas must be bigger, flashier and better than anywhere else. Texans have a lot to be proud of when it comes to sports. They have some of the best teams in the country and they make sure they invest the dollars needed to show their support. The Don Haskins Center in El Paso, Texas has to be included in that concept as they have gone over the top to have a total of seven electronic scoreboards, two with video replay.

The Don Haskins Center opened in 1976 and is the proud home of UTEP Athletics Men and Women's basketball. It boasts phenomenally beautiful hardwood floors in an octagon pattern. Named after their hometown basketball coach, and UTEP Hall of Famer, it is actually owned by the University of Texas, El Paso. The seating was designed with a capacity of 12,222, but it is notably separated into permanent seating for 11,767, 800 portable seats in a round concept and 36 spaces for wheelchairs. The arrangement for the seating was well thought out; as it gives their fans close seating to the floor area.
The electronic scoreboards are of such high quality, number and both audio and visual excellence that the Don Haskins Center has been host to a number of high venue musical concerts. These have included such notables as Crosby, Stills and Nash, Metallica, Santana, Aerosmith, Ozzy Osbourne and so many more. They have also hosted the Harlem Globetrotters, World Championship Wrestling, the Royal Lipizzaner Stallions show and pre-season NBA games.
Stating that the people of the El Paso are avid fans, is really an understatement. Since the center was renamed, it has brought in 4,686,630 attendees in the thirty seasons, which actually averages around 9,308 people per game. They have also been sold out around 106 times for the UTEP basketball season games. While you might think this is quite an accomplishment, to the people of El Paso, this is just the norm.
A majority of the success of the Don Haskins Center is based on excellence in planning, working with sponsors and giving the fans what they want with the highest quality electronic scoreboards. Audio and visual abilities are the top requirements in today's venues, and the center matches and exceeds all expectations. Every attendee, whether to a game or concert is invited into a world of excitement. The colors and sound are like static electricity and adds to the moment. The Don Haskins Center has set themselves up to be a standard of excellence, complying with the Texas requirement to be bigger and better.
If you ever have the opportunity to find yourself in El Paso, Texas and it is either a basketball game or concert time, it is highly advised that you take advantage of the experience at the Don Haskins Center.

Comments: (0)
---
Leave a Comment
You must be logged in to post a comment.