Social Media and the net: Electronic Scoreboards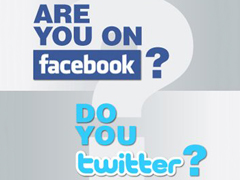 There is no denying it; we are in a tsunami of social media and internet awareness around the world. From political events in the news to sport events in local and national games, every person is checking their Facebook and Twitter updates and communicating like never before seen in the history of humanity. Keeping up with this technology race in the electronic scoreboard arena is pretty much a no-brainer, and benefits all that are involved.
Coordinating electronic scoreboards with the internet and social media involves a deliberate and well though out marketing plan. The electronic scoreboards of today do have the ability to do wifi net feeds, but, there is more that is involved than sending information to a page. If you are involved in the project of adding electronic scoreboard information to the net, you need to understand the psychology and differences.

You probably already have a website set up for the school or team. This usually includes every bit of data about the school and is sometimes visual overload with no real focus on the page for any particular topic. Talk to the decision makers to see if you can add a larger 'tile' that will offer real time data feed score updates during the games. You can turn the tile off during non-game time. This will involve working with your webmaster for additional coding and linking to your electronic scoreboard information. An important topic is to also make the website 'Smartphone friendly'. The number of Smartphone users is growing at an incredible rate, with a majority of younger fans owning a Smartphone.
Setting up a social media page, such as Facebook (FB), is a completely different mind set, than setting up a personal FB page. In your personal page, you have friends and share all kinds of experiences. On your team FB page, you want everyone to 'like' you. This will then share updates with all of their friends. The marketing schematic of a business FB page should be designed around increasing the view factor. You can have coupons, FB only discounts, and share special events such as raffles. The marketing wizards will bring in sponsors and advertisers to the social media page and they will receive better brand sharing.
Once you have a web page and an FB page established, you will want to work with the webmaster to do an auto feed to the FB page when the scoreboard is turned on. What you will now have is a high tech electronic scoreboard feeding real time updates to your webpage and FB page. This will automatically send the updates to all of the people that 'like' your school or team. If they have their social media page set so that they receive their updates on their smart phones, you are now reaching the largest fan base possible.
This is not just a courtesy to send information to those that could not attend the game, it is now an evolution of communication. Your marketing strategies have expanded the visibility of the team, school, sponsors, products and advertisers to a larger group and given better exposure. It's not just about team scores, it's all about the marketing.

Comments: (0)
---
Leave a Comment
You must be logged in to post a comment.