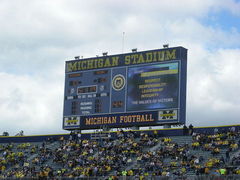 While some schools are having a debate as to whether advertising and marketing should be included on sports electronic scoreboards, Michigan Stadium seems to be completely oblivious to this argument. The stadium has instituted a new program to offer electronic message displays. Anyone can participate, for a price.
You have to give credit to the University of Michigan. They know that their games are some of the most watched games as well as most highly attended. They are taking full advantage of that fact and offering the general public the ability to post a message, in full view of thousands of attendees and millions that view on broadcast.
The U of M is encouraging people to post anniversary, birthday, and even proposals for marriage. The price is pretty reasonable. For a $200 fee, you get up to fifty characters (including spaces). They guarantee the message will be posted twice during the game: the first display will be between the first quarter and the second quarter and the second will appear during halftime ending. Each message will last a total of five seconds and there is a max of fifteen messages per game. All messages are previewed for content prior to acceptance.



Comments: (0)