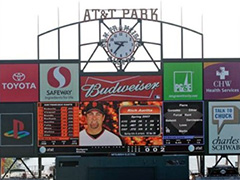 When you are looking to purchase an electronic scoreboard, there are a number of factors that come into play. The desire to have everything on your 'wish list' may be counteracted by the perceived price. However, there are some important aspects of the newer high technology scoreboards that you need to consider, as they will often not only pay for themselves but, if chosen wisely, can offer opportunities for additional recurring revenue for your school, team or stadium.



Comments: (0)
Throughout the years, I have attended more concerts than I can count. I wish I could say that I always had a good seat; but, like most of us, I often ended up so far away, that the performers seemed little more than tiny doll figures. When one is sitting in the 'nose-bleed' area, the other major problem has always been the sound quality. Even the best of stadiums and arenas could not offer anything other than a fuzzy echo. In those days, the thrill was to simply say "I was there"; but not so anymore. The electronic scoreboards of today are more than just for the sports fans; they have become a major part of a concert experience, bringing the excitement to every seat in the house.
Whether you are into classical, rock, reggae or pop, attending a concert is completely personal. The event is the highlight that caps your collection of CD's or downloads and brings a moment of life to the music. There is always a static electricity in the mood of the crowd before a concert and the buzz and hum that occurs just prior to the dimming of the lights. Once darkened, the era of the electronic scoreboard changes the scene as a high tech, color blasted visual blasts into view.



Comments: (0)