The 3 NFL Players With The Worst Career Ending Injuries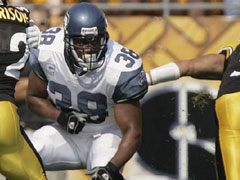 In a football scoreboards feature, we look back at the most infamous and brutal injuries the NFL has ever witnessed.
It is a loss beyond words for a professional athlete when his or her career comes to a sudden end due to an injury he/she suffered on the field or on the court. Among all the professional sports, football is probably the most brutal contact sport in the world. Injuries are second nature to the game; it is like a right of passage for all football players to go through and get injured while on the field.

When it comes to a career ending injury, thankfully, yet ironically, there have not been many in NFL's history. NFL players accumulate hundreds of minor injuries over the course of their careers, from which they recover and get back on the field. However, these minor injuries leave their bodies worse off by that much and when they attain a particularly brutal injury, the cumulative effect of all their previous injuries and this new one leaves their body unfit for continuing to play the sport.
Here is a list of the 3 NFL players whose careers came to end after experiencing the worst injuries of their lifetime:
1. Joe Theismann – he was the quarterback for the Washington Redskins when he got injured. His injury is perhaps the most watched and most well known injury in NFL's history. The football scoreboards showed that it was 18th, November 1985, and the New York Giants linebacker Lawrence Taylor broke Joe Theismann's leg, when he tried to tackle Joe. The break of Joe Theismann's leg was not audible to the crowd, but the horrible angle of his broken leg was captured more vividly on camera than anyone would have wanted.
2. Mike Utley – his injury came when he was playing for the Detroit Lions in a match against the Los Angeles Rams. Mike Utley made one of his routine tackles during the match, which resulted in him being carried off of the field. While being carried off, he waved to the crowds and his team to show his arms was alright, but, sadly, as it turned out the injury wasn't in his arms it was in his spine. His 6th and 7th vertebrae had been broken which left him paralyzed from the waist down.
3. Reggie Brown – another player for the Detroit Lions. His injury came in his second year as linebacker for the team, on December 21st 1997 in a similar fashion as that of Mike Utley's. However, unlike Utley and luckily for Reggie Brown, the force of the tackle caused two of his vertebrae in the neck to shift causing his breathing to stop and temporary paralysis. Thankfully, he recovered from the paralysis after spending a month in hospital and was able to walk again, if not play.
For more information, go to: www.nfl.com

Comments: (0)
---
Leave a Comment
You must be logged in to post a comment.