The 4 Greenest and Most Environmentally Kind NFL Stadiums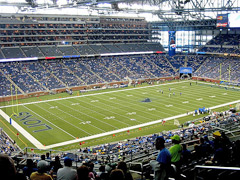 In this football scoreboards feature, I have taken a lot at the most environmentally-friendly NFL stadiums that are already in use, or are still under construction. If only all the NFL stadiums could go a bit greener, with tens of thousands of fans visiting them each game, it would make a huge difference to the environmental impact of the sport.
1) Ford Field, Detroit Lions' Home. Recycled steel and recycled glass are plenty at this NFL stadium. Twenty million pounds of the former are just the beginning, since this stadium partly consists of a pre-existing building (which used to be JL Hudson Store Warehouse). The club terrazzo floors are made purely of recycled glass, and a lot of recycled rubber has gone into the construction of the parking lot. The elevator foyers and suites are constructed partially of bamboo, and the stadium is equipped with a variety of energy efficiency features.

2) Qualcomm Stadium, San Diego Chargers' Home Field. It is no surprise this stadium made the list, since California is probably the most eco-friendly state in all of America. For a while, green efforts have been going on here, with the team being heavily into recycling. They also make donations to the Boys and Girls Clubs of America and the local YMCAs. Recycling bins are everywhere as well, and there is a special abundance of them in the tailgating area.
3) Lincoln Financial Field, Philly Eagles' Home Turf. The Eagles' have been boasting their 'Go Green' campaign for a while now. Their programs and tickets are being printed on recycled paper. A special corn-based material is used to make beer cups, which only takes 50 days to fully disintegrate. This material is also used for the players' plastic dishes. Clean energy is used by the facility, especially in the team area. The stadium also promotes a program, which encourages the spectators to reduce their carbon footprint when traveling to see the game.
4) New Meadowlands Stadium, New York Jets and Giants' Home. The seats in this stadium are constructed of plastic that has been partially recycled, and scrap iron has also been used. Options of public transport have also been expanded for the fans. The EPA (Environmental Protection Agency) has made a commitment along with the teams to reduce the water use of the stadium by 25 percent a year. This includes shower time for players after the game.
Green Stadiums in the Works
Both Los Angeles and San Francisco are planning to construct new, giant, and environmentally-friendly stadiums. The San Francisco one will have recycled water, a 'green' roof, and solar panels. Also, there is a plan to have at least 25 percent of the fans arriving by public transport. It is due to open in 2014. The Los Angeles stadium could be open as early as this year (2011), and it strives to reduce steel needs by 40 percent, as well as to blend in with natural surroundings.
For more information on NFL stadiums, go to:
//en.wikipedia.org/wiki/List_of_current_National_Football_League_stadiums

Comments: (0)
---
Leave a Comment
You must be logged in to post a comment.