The 5 Best and 5 Worst NFL Stadiums to Feast in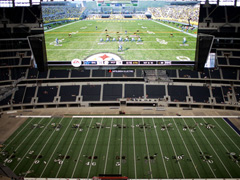 It is no secret that besides coming to watch the football scoreboards change scores, people love to have a bite to eat when they're at a stadium. Most of the time this means you'll get soggy nachos and overcooked hotdogs though. Nevertheless, there are some stadiums which will leave you fully satisfied with their finger-licking tasty food. Here are 5 of those stadiums:
1. Qwest Field – Seattle Seahawks
This one got voted number one, as it has a wide variety of foods. The options include Taco Ma's, Seattle Dogs, and Glo Bowl Thai. On top of that, the choice of beer is also excellent – you can get Coors and Miller, as well as Red Hook ESB, Curve Ball, Amberweizen, IPA, and Hefeweizen. Qwest field also boasts a huge selection of international options.

2. Cowboys Stadium – Dallas Cowboys
The options here are excellent as well, including The Kobe Burger and Texas Catfish Po'boy. A good selection of beers and a great cheese steak are also among the pros of this stadium.
3. FedEx Field – Washington Redskins
Famous Dave's BBQ is famous not just in the name – it is one of the best food options (out of many) that you will find at the FedEx Field. The beer options are also plenty – 26 kinds in bottles and 24 kinds on tap.
4. Heinz Field – Pittsburgh Steelers
The best options for food include Quaker Steak and Benkovitz Seafood, and the beer options include Blue Moon, Iron City, Bass, Yuengling, Guiness, Penn Pilsner and Harp.
5. Reliant Stadium – Houston Texans
Some good local options include the Red River Dogs, Cactus Cantina, and Luther's BBQ. The beer choices are abundant too – Dos Equis, St. Arnold, Fat Tire, Corona, Blue Moon, and Pyramid. Some have referred to this stadium as the NFL's barbeque capital.
Of course, there are also stadiums with some terrible food options – which is almost as upsetting as watching the football scoreboards show plummeting scores. Here are the worst five options:
1. Georgia Dome – Atlanta Falcons
There are no concession stands to begin with and there is only one average restaurant – Taco Mac. Although the beer selection is decent, including Miller, Bud, Heineken, Coors, Corona, Michelob, Guinness, and Newcastle.
2. Ralph Wilson Stadium – Buffalo Bills
Nothing special at this one, with average or below average restaurants and an average beer selection.
3. Edward Jones Dome – St. Louis Rams
The worst thing about this stadium is the substandard beer selection, as well as the price of the beer – $9.50 for one! The food options are average.
4. Mall of America Field – Minnesota Vikings
Both the food options and the beer options are substandard.
5. Paul Brown Stadium – Cincinnati Bengals
The food options have been referred to as "awful", but the beer selection is decent, including Bud, Guinness, Miller Lite, and Warsteiner.
Read more: esquire.com/blogs/food-for-men/stadium-food-ratings-nfl#ixzz1L1lbHo61

Comments: (0)
---
Leave a Comment
You must be logged in to post a comment.