The 5 Best NFL Stadiums to Visit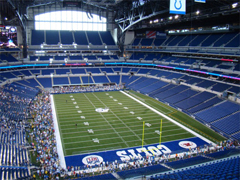 Watching football is without doubt the favorite pastime in the US. It is in fact a Sunday tradition – who doesn't love to watch a football match on a lazy Sunday when you have nothing to do other than relax?! Best of all is, of-course, if you can get to the stadium and see the game live – and truly experience the sport and the incredible atmosphere that it generates. In this football scoreboards feature, I have selected what in my opinion are the best 5 football stadiums to visit.
5. Lambeau Field
The home stadium of the Green Bay Packers is the only arena with a true retro look in the entire league. To watch a match in the oldest football stadium is surely an amazing experience! The arena is jam packed with passionate fans cheering for their team who come out even in the extremely cold weather of Green Bay to support their team. The stadium is named after a Packer's player, founder and coach, Curly Lambeau who died in 1965.

4. Cowboys Stadium
The Cowboys Stadium replaced the Texas Stadium in 2009 and is the home stadium of the Dallas Cowboys. It is the largest domed stadium in the world and has a retractable roof which is a unique feature. Apart from this the stadium has the largest high definition video screen which entertains the fans during the game. The fans love their team as they hold a record of 8 appearances in the Super Bowl.
3. Heinz Field
Opened in 2001, the Heinz Field is the home stadium of the Pittsburg Steelers. The Steelers have a huge fan base and the arena is always packed to the brim with passionate fans there to cheer on the team. The Stadium can accommodate approximately 65,000 people at a time. The Steelers were victorious in the 2005 and 2008 Super Bowl.
2. Arrowhead Stadium
This stadium completed its newest renovation last year and is the fourth largest NFL stadium in term of seating capacity. It can accommodate approximately 76,500 people at a time. It has been nicknamed as the Sea of Red because every fan is wearing red and is screaming to support their team (I've been to many NFL games and I'm convinced that they are the loudest fans in the NFL!).
1. Lucas Oil Field
The stadium that was inaugurated in 2008 is all set to host the 2012 Super Bowl! The arena with a retro look is inspired by the NBA arena, Conseco Field house, mainly because of the Indianapolis' liking, and it can accommodate up to 70,000 fans at a time. Indianapolis were a bit out of form last year but they undoubtedly have the best arena in the entire league!
For more information on Lucas Oil Field, go to:
//en.wikipedia.org/wiki/Lucas_Oil_Stadium

Comments: (0)
---
Leave a Comment
You must be logged in to post a comment.