The 5 Dirtiest players in the NFL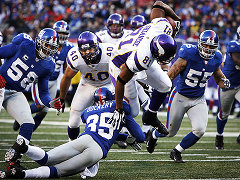 In a football scoreboards review, we list the five most downright nasty players currently plying their trade in the NFL.
Football is a game where the word sympathy does not exist. If a player of the opposite team is hurt, he will certainly not get any assurance from the other team on the field. Instead the team will take advantage of this and extract whatever benefit they can from it. Being dirty is allowed only up to an extent, and going beyond that line means that the player will be fined. The recent incident between Seymour and Ben shows that the Federation is still alive and takes action against such dirty players. Seymour, who is well known for his less than squeaky clean play was fined $25000. Such punishments, however, do not seem to be much of a deterent for the 5 players listed below:

1. James Harrison
The football scoreboards shows that James Harrison now plays for the Pittsburg Steelers. He is a head hunter and a player's nightmare. His helmet to helmet knock is very common and the NFL even fined him for this. Harrison seemingly causes some kind of injury in every game he plays. Football is a game of violence, but Harrison takes it to the extreme.
2. Albert Haynesworth
Albert Haynesworth now plays for the Washington Redskins. He is phyically huge and extremelly violent. One of his dirtiest incidents included stomping on Andre Gurode's head. He was immediately disqualified from the game. Poor Gurode received 30 stitches after the incident but was lucky not to suffer from more serious injuries!
3. Joey Porter
Joey Porter is a linebacker currently playing for the Arizona Cardinals. He has this ability to wind up his opponents so that they get very frustrated. Porter seemingly has no limits when it comes to violence in the game, be that on the pitch or off it. An example of such an incident is when he, with the help of two other players got in a very serious fight with Levi Jones off-the field. He then faced a 3 week suspension.
4. Ray Lewis
Ray Lewis plays for the Baltimore Ravens. He is not as violent as the other players on this list but his aggressive behavior qualifies him as one of the dirtiest players in NFL. He is famous for his brutal and harsh hits. He has a tendency of leading with the helmet which is another reason why he is on this list.
5. Hines Ward
Hines Ward plays for the Pittsburg Steelers. He is known for making the dirtiest block in the league and also for his vicious hits. He is a big bad nasty-ass player, and the sort (along with the other players in this list) who makes me glad I never made it into the NFL!
For more information on the NFL, go to: nfl.com

Comments: (0)
---
Leave a Comment
You must be logged in to post a comment.