The 5 NFL Stadiums with the Best Facilities and Atmosphere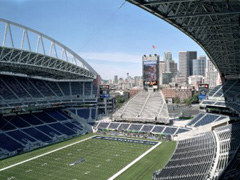 Although traditionally it has always been baseball that was America's favorite pastime, NFL football scoreboards have been grabbing more fan attention in the last few years. It has become a traditional sport to watch or play on a Sunday, which often leads to a lot of tailgating after games and sweaty palms from excitement. Here are my top choices for NFL stadiums in the country:
1) Lambeau Field (Green Bay Packers)
The Green Bay Packers have a great place to call 'home'. This is one of the oldest stadiums in the league, and not matter what the football scoreboards show, it is always full of passionate fans, who will endure any kind of cold just so they can watch their beloved Packers play. Lambeau's Frozen Tundra has an unmatched game environment and it 3 Super Bowl championship teams have come to consider it home.

2) Arrowhead Stadium (Kansas City Chiefs)
The 'Sea of Red' is definitely something that will be experienced during a visit to Arrowhead Stadium. This refers to the loudest fans in the NFL, and the 'Sea of Red' is their nickname. The building is capable of making the already high-pitched decibels even louder at Arrowhead Stadium, even though the Kansas City Chiefs have been having a tough time and haven't been able to get into the Super Bowl for over 40 years. The long hours of tailgating also make it worthwhile to go see a game at the Arrowhead Stadium, because of the fun atmosphere. If you have sensitive ears, be sure to bring some earplugs when you do!
3) Meadowlands Stadium (New York Jets and New York Giants)
The new Meadowlands Stadium was only built last year in 2010. Its overall capacity is beaten by only the Redskins FedEx Field, with some 82,500 seats. This is very good news for the New York Giants, whose games are now sure to be full of enthusiastic fans, and the New York Jets can also expect fantastic turnouts.
4) Cowboys Stadium (Dallas Cowboys)
This stadium is also a pretty new facility, which only opened in 2009. It is often referred to as a state-of-the-art stadium, and its high definition video screen is the largest in the world! The Cowboys Stadium also boasts a very impressive franchise history, featuring appearances in 8 Super Bowls, which is nothing short of a record. All this will definitely make a trip to Texas worth your while, especially if you are an avid football fan.
5) Lucas Oil Field (Indianapolis Colts)
The Lucas Oil Field is often noticed for its aesthetically pleasing design. This home of the Indianapolis Colts has a great fan atmosphere, as well as a team that continues to dominate, led by Peyton Manning, a record-breading quarterback. For 7 seasons straight the Colts took first place in AFC South.
For more information, go to:
//bleacherreport.com/articles/116637-the-25-greatest-stadiums-of-all-time

Comments: (0)
---
Leave a Comment
You must be logged in to post a comment.