The 5 Worst US Sports Stadiums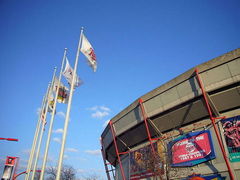 In this football scoreboards feature I have looked into the 5 worst sports stadiums ever built. I've been to them all – and there for each of them there is at least one good reason why they made this list!
1) Minneapolis – the HHH Metrodome
This one has been referred to as the worst stadium in the U.S. by some. The main problem with it is that it was designed for more than one sport – mainly football and baseball. Of course, the fundamental issue is that the field shape for these two sports are different! Baseball fields are supposed to be diamond-shaped and football fields are rectangular. So, both sports games suffer as a result. For example, it is difficult for some baseball fans to relax and watch a game – they'll probably sooner hurt their necks! It's no picnic of football fans either, even if the football scoreboards show great results. Also, the use of plastic for the rails and chairs gives it a terrible feel and a total lack of character.

2) St. Petersburg – Tropicana Field
This one was intended to look "futuristic", like many domes built in the 1970's and 80's, but most of them are nothing short of disasters. The biggest problem is that the roof of the dome is permanent, unlike the retractable ones that are now pretty much a standard. So, even when it's a nice sunny day outside with a warm summer breeze, you'll still be cooped up inside this supposedly "futuristic" stadium.
3) Milwaukee – Bradley Center
The outside of this stadium has been described as 'innocuous', but the inside is even worse. The designers were clearly not interested in putting any nice 'feel' or character into this stadium, so the architecture is very utilitarian. The seating areas and the concourses are both drowning in steel and concrete.
4) St. Louis – Edward Jones Dome
The general rule of thumb is that NFL stadiums should not be built or located in downtown areas. They don't fit into the general surroundings, create traffic jams, and most annoyingly, require the building of big parking lots (which is quite difficult for downtown areas). When you end up in one, good luck getting out after a game! But where else are going to park your car? Another problem with this stadium is the way it looks – it's a dome clad in red brick, which is completely unfitting with its downtown surroundings.
5) San Diego – Qualcomm Stadium
The architectural design of this stadium is sometimes called the "cookie-cutter", and this alone cannot signify anything good. The design of the Qualcomm Stadium is completely not interesting, and even worse, they it is full of ramps that are spiral in shape. This design has been taken on by various stadiums, but this one does them the worst. Any architectural resonance is slaughtered by these spiral ramps. Another problem is it's dual-purpose design (much like that of the Metrodome), where both baseball and football fans have to suffer.
Source:
https:/­/­commons.wikimedia.org/­wiki/­File:Hhh_metrodome.jpg
For more information, go to:
worldstadiums.com/north_america/countries/united_states.shtml

Comments: (0)
---
Leave a Comment
You must be logged in to post a comment.