The 7 Worst NFL Stadiums You Wouldn't Want to Visit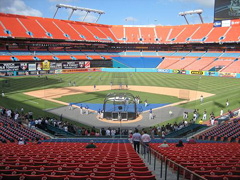 In this football scoreboards feature, I have taken a look at the 7 worst NFL stadiums ever built. Old, out of date, uncomfortable, bad facilities, ugly…these are the stadiums you least want to go to to watch an NFL game.
1) The Sun Life Stadium (Miami Dolphins)
Some serious renovations are required at this stadium after the Super Bowl was held there last February. The time has finally come for the Dolphins to move to another stadium.

2) Paul Brown Stadium (Cincinnati Bengals)
The Paul Brown Stadium has a variety of issues, but the problem is moving the Bengals. Mike Brown is not keen on moving the team, but, according to Fox Sports, this stadium is a strain on the local budget. Either way, the Bengals are in dire need of a new home.
3) Ralph Wilson Stadium (Buffalo Bills)
This stadium has one of the smallest areas in square feet overall, yet one of the biggest seating capacities recorded in the NFL. You can figure this one out on your own – it is extremely cramped! There are fewer luxury box seats compared to other NFL stadiums, and this fact is unlikely to change under Ralph Wilson, the Bills' 91-year-old owner. It may be time for them to move.
4) Edward Jones Dome (St. Louis Rams)
The Rams are in desperate need of a new home, even though the stadium is only 15 years old. If the Edward Jones Dome does not rank in the top 8 NFL stadiums by 2015, the Rams will be allowed to make a move somewhere better.
5) Candlestick Park (San Francisco 49ers)
Until a new stadium is built, the West Coast will not be holding a Super Bowl. Besides the San Francisco 49ers, this affects the San Diego Chargers and the Oakland Raiders. According to a public vote, a new stadium will be constructed in Santa Clara, which is good news for the Niners. They could also end up sharing the stadium with the Raiders.
6) The Metrodome (Minnesota Vikings)
This is another team in desperate need of a new home. Not only is the stadium in bad shape, but it is in such bad shape that the fans' safety has become a concern. During the 2010 NFL season the roof collapsed, which made it evident that there is a dire need for serious renovations. Otherwise the Vikings will have to move.
7) Soldier Field (Chicago Bears)
The issue with this one is not so much the stadium itself, but the field. The grass conditions are abysmal, and something needs to be done about it. The Bears have a lot of fans, so they deserve better field conditions while playing. Otherwise they may be in need of a new home too.
For more information on NFL stadiums, go to:
//en.wikipedia.org/wiki/List_of_current_National_Football_League_stadiums

Comments: (0)
---
Leave a Comment
You must be logged in to post a comment.