The best kickers in NFL history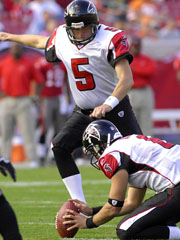 In a football scoreboards feature, we look at the NFL heroes with the golden boots, and ask, how is the greatest ever?
If there ever was a position in the sport of football that was considered to be "just" a position, it is that of the kicker. This position is perhaps the least appreciated and least respected in the history of the game. The kicker's responsibility may seem to be very simple and meager but, in reality, even though the kicker comes in to play less frequently than the other positions, it is the most pressurized position of all. The precision of the kicker's kick is vital for the success of the team, hence the immense pressure. This list presents the best of the best in an effort to recognize and appreciate the responsibilities of the kickers.
5. Matt Stover – before the recent scandal over Stover's (42 years) inability to hit a 51 yard field goal attempt against the Saints, he was considered almost as good as John Carney, but just not as accurate. That's why he is ranked below him. In his better days, the football scoreboards showed that in the 2007 season he hit 426 field goals in 508 attempts with an accuracy of 83.9 percent.
4. John Carney – in the NFL a player approaching 40 years of age is practically considered senile, but not Carney. At 44 years of age, Carney replaced a much younger injured team mate Lawrence Tynes (31 years) for the New York Giants. With an amazing success rate of 92 percent, Carney hit 34 field goals out of the 38 attempts in the 2007's super bowl and 35 field goals in the 2008 season. His ability to hit long field goals sent him to Hawaii as a pro bowler in 2008.
3. George Blanda – Blanda's greatest characteristic as a kicker was that he was also the quarterback for his team. With a career spanning from 1949 to 1975, playing for teams like the Bears, Oilers and Raiders, he scored 2002 points with 335 field goals. His best season was in 1968 when he scored 117 points for Oakland.
2. Gary Anderson – in 1986 Gary Anderson kicked off his career by kicking for the Steelers and went on to play for 49ers, Eagles, Titans and Vikings. With 2434 points and 538 field goals under his belt, Gary Anderson is ranked 2nd among the top kickers in NFL history. His best season was the '97-'98 season, when he hit an astonishing 35 field goals out of 35 attempts for Minnesota i.e. 100% accuracy, making him the only NFL kicker to have had a perfect season.
1. Morten Anderson – he started off his NFL career in 1986 and has played for teams like the Falcons, Saints, Vikings, Giants and Chiefs. He is the all time leading NFL kicker with 2488 points, as well as the all time leading field goals kicker with 552 to his name. His best season was in 1995 when he hit 31 field goals of his 37 attempts whilst playing for the Atlanta Falcons.
For more information on Morten Anderson; go to:
//en.wikipedia.org/wiki/Morten_Andersen

Comments: (0)
---
Leave a Comment
You must be logged in to post a comment.