The Best NFL Draft Picks of 2011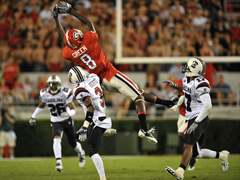 As ever this year's draft showcased some incredible talent who seem destined for fame and fortune . In a football scoreboards feature, I have brought together the most promising prospects from this year's draft, who just might be the next Superstars of the NFL.
1. A.J. Green, Wide Receiver, Georgia – Even the disciplinary problems to his name, Green has more than enough talent to have kept every team representative interested in him. At a height of 6'4" and weighing around 211 pounds, the football scoreboards showed that Green ran 40 yards in 4.48 seconds. Last season, Green sold off one of his old bowl game jerseys, a stunt which earned him a harsh 4 game suspension. However, even after that he caught 57 catches, and ran 848 yards with 9 scores.
2. Tyron Smith, Offensive Tackle, USC – At 6'5" and 307 pounds, Tyron Smith has the body to prove himself an intimidating offensive tackle for any team that picks him. Negative rumors about his talents and athletic ability flew around, when he suddenly left the scouting combine after only completing the bench press activity. However, he laid all such insinuations to rest on his pro day. He managed 31 complete reps in the bench press activity, and time of 4.96 second in the 40 yard dash. He is one of the very best prospects at this position.
3. Von Miller, Line Backer, Texas A&M – At a height of 6'3" and a weight of 246 lbs, Miller surprised every team representative at the combine when he ran a swift 4.42. Last season for the Aggies he made 11 sacks and 68 tackles, with 17 sacks and 43 tackles in 2009. He is one of the best and most promising drafts in this position and looks like the Cleveland Browns will get him.
4. Patrick Peterson, Cornerback, LSU – He may be the best athlete, the best defensive back as well as the best return man in the draft this year. However, as history has repeatedly shown us, being the best does not necessarily ensure the 1st draft pick. As a cornerback for LSU, Peterson has made 135 tackles, 7 interceptions and 1 forced fumble. He has the strength of a linebacker and the agility of a cornerback, a combination that has made him one of the most talked about prospects of 2011.
5. Prince Amukamara, Cornerback, Nebraska –Even though Amukamara was the Big 12 Defensive Player of The Year in 2010, he did not manage any interceptions last season. However, he is still considered a hot commodity for this year's draft which is why the 49ers have drafted him. At 6 feet and 206 pounds, he has the speed and ability to lockdown his opponents.
For more information, go to:
nfl.com/

Comments: (0)
---
Leave a Comment
You must be logged in to post a comment.