Schools Now Offer Scoreboard Auto Feeds to Home Websites
Thursday, October 18th, 2012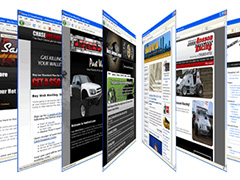 The era of high tech has been taken to another level. Never before has there been such a demand and use of technology as the world we currently live in. Statistics are showing that over seventy percent of the U.S. population are using smartphones and everyone is on the internet. We have become a society of technology hogs and everything has to be faster, prettier, brighter, cleaner and seamless. To keep up with this high technology demand, schools have been racing to work with programmers to keep up their websites and coordinating with their IT Departments to marry the technologies together.

The topic of sports is a main focus in every school, so when the conversation turns to the team's electronic scoreboard, everyone wants to know everything about a game, immediately. Today's electronic scoreboards offer a myriad of abilities including wireless connectivity, video display and live feeds. One of the hottest requirements that has been showing up in schools is the ability for the electronic scoreboard to offer automatic update feeds to the scoreboard with simultaneous feeds to social media, smartphones and the school's website. While you might think this is a bit of overkill, it actually addresses a variety of viewing options for those that cannot attend the games or simply want a replay of that favorite football play later.
The technology is there, but if you are going to approach this level, you need to get your team of professionals together. This typically involves the person or persons responsible for the electronic scoreboard control area, the IT Department, and graphic designers and your webmaster of the school website. Each of these individuals brings their expertise to the table so that you can allocate the needs, the time requirements and any additional hardware or software that might be required. It's a good idea to contact your electronic scoreboard manufacturer prior to the meeting, as their input can be incredibly valuable with preliminary information and recommendations.
Establish a meeting time to put together all of the pieces required and ensure that everything is in place. It's at this time that you will want to get the graphic designer on board for any artwork that may be required. This can entail anything from a click tile on the website for a video feed to posters for the school.
Once you have coordinated with everyone involved, accomplished your testing and made sure all of the technology works well, make plans to launch an announcement for the new tech abilities. Everyone in the school and the community, as well as alumni are going to be interested in the latest technology. If there was a cost involved and there are any sponsors that assisted in paying for it, you will need to coordinate the sponsorship on the electronic scoreboard and in any and all marketing that is produced.
Schools are the perfect place to offer advanced technology. While the kids may be pretty much accustomed to using high tech, parents may be a bit more reserved. Nothing entices innovative thinking like a good sports game, and this transition in technology will help bring anyone that may have been shy, right into the front row. The community, parents and teachers support all of the teams, no matter if they are football, basketball or baseball and the better the technology the more support you will receive.

Comments: (0)
---
Leave a Comment
You must be logged in to post a comment.